Japanese Knotweed Control
We are leading specialists in the identification, treatment and removal of Japanese knotweed (Fallopia japonica). This troublesome weed can be very difficult to get rid of without the help of a qualified expert – fortunately, the Taylor Total Weed Control team are here to assist you!
What is Japanese Knotweed?
Our experienced Japanese knotweed specialists have been working with this invasive plant for more than 15 years. This service is available nationwide –
Contact us now
to arrange a free survey. We will match any written quotation from a PCA-registered Japanese knotweed contractor.

Not sure if it's Japanese knotweed?
Send us a photo!

Professional Japanese Knotweed Contractors
Unlike some other companies who offer Japanese knotweed control services, Taylor Total Weed Control provide honest and transparent advice to help you eradicate this invasive weed from your property. As one of the UK's leading Japanese knotweed specialists, we offer a comprehensive range of services including confidential surveys, herbicide treatment, excavation and removal, and reports for mortgage applications. We have perfected our
treatment plans
to keep costs to a minimum, and our staff will be happy to answer any questions you might have.

Property Care Association (PCA) Registered
Many contractors who claim to specialise in Japanese knotweed removal fail to follow the relevant code of practice laid out by the
Environment Agency
and end up making the spread of this highly invasive plant even worse. Taylor Total Weed Control are registered with the
Property Care Association
, and our reports are accepted and approved by the
Royal Institute for Chartered Surveyors (RICS)
, so you can rest assured that our services meet the very highest standards. All of the reports and surveys we provide are accredited guarantees.
How Much Does Japanese Knotweed Removal Cost?
Starting from £75 +VAT per application
Our Japanese knotweed control services are extremely affordable when compared to the majority of companies in the UK. Our prices start from just
£75
(plus VAT) per herbicide application – we usually recommend a course of herbicide treatments, although we can also dig up and remove your Japanese knotweed if the situation calls for it.
View our price list>
.
Call us on
029 2039 7554
or email
sales@taylortwc.co.uk
to request a free, no-obligation knotweed control quote. We can provide all the accreditation reports required by lenders, as well as insurance-backed guarantees to support mortgage applications.
Request a Free Survey
Identifying Japanese Knotweed
Identifying Japanese knotweed
can be a difficult task. The plant's growing cycle means that its appearance can vary significantly depending on the season. During its dormant winter stage, for instance, the weed is almost impossible to identify.
However, we provide a discreet, specialist service that makes Japanese knotweed identification extremely simple –
contact us today
to arrange a free survey.
SEE ALSO:
Japanese Knotweed Photo Gallery

What is Japanese Knotweed?
Japanese knotweed (Fallopia japonica) is an invasive plant that has become a major problem throughout the UK. Due to favourable growing conditions, it thrives in areas like South Wales and South West England, and it can be found in an ever-increasing variety of locations nationwide. Under the Wildlife and Countryside Act 1981, it is an offence to plant or encourage the growth of Japanese knotweed or to allow it to spread.

It's not clear how or why this species was introduced to Britain, although theories and myths abound. Some claim that it was used as a decorative plant during the Victorian era; others say that it was brought here for animal fodder. We've even heard it said that it provided support for levees, canals and railway embankments, with the root system used to anchor the soil.

One of Japanese knotweed's defining characteristics is how quickly it spreads. During the summer, when the plant is at its most aggressive, it can grow by as much as 2cm per day! It also has a tendency to form a thick, leafy canopy that prevents other plants from developing.

Though not toxic to humans and animals, the plant does not provide a viable habitat for native birds, insects or mammals. It is strong enough to grow through cracks in walls, tarmac, and concrete slabs – it has even been found in cavity walls and drains.

Japanese knotweed has been known to cause structural damage to roads and the fabric of buildings, and as a result, it may be difficult to obtain planning permission or finance for knotweed-contaminated properties.
Rhizome Root System
Like many other weeds, Japanese knotweed has a highly durable rhizome root system. Burrowing as far as 2 metres down into the ground and reaching up to 4 metres, this extensive root system is the main reason why Japanese knotweed can be so difficult to remove.

If not managed properly, cutting the plant or disturbing the soil around it may actually end up encouraging the weed to grow. A tiny fragment of the root can quickly establish a new plant stem, and so Japanese knotweed can easily be spread when these rhizomes are transported to other sites. To make things even more difficult, a 3cm piece of rhizome can remain dormant in the soil for several years before it actually appears.

This is why it is so important to take a professional, scientific approach when attempting to remove Fallopia japonica from your property. All too often, well-intentioned but misinformed attempts to eradicate the invasive weed end up helping it to spread further.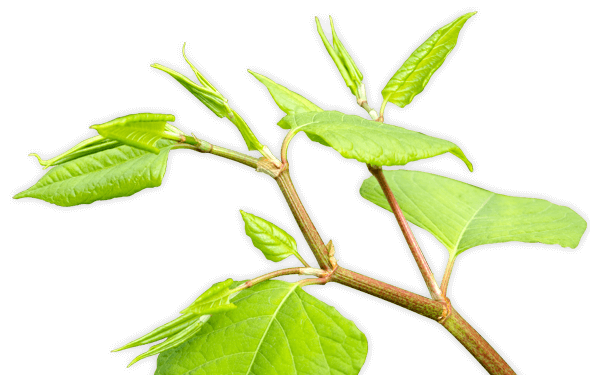 How to Get Rid of Japanese Knotweed
There are two main recognised methods for effective Japanese knotweed control:

Excavation & Removal
This is a site clearance technique that can become very expensive very quickly. Not only does it require the use of heavy excavation machinery, landfill charges are added for transportation to specialist landfill sites.
On request, we can sift the soil using a unique mobile plant to remove Japanese knotweed fragments. This dramatically reduces the amount of excavated waste that needs to be taken to landfill.

Herbicide Application
Controlling Japanese knotweed with herbicide is a far more affordable method that typically costs just 10-15% of the prices quoted for mechanical removal. Specialist herbicides are required, and these should only be applied by qualified Japanese knotweed experts.
If using herbicides to get rid of knotweed, it is critically important to ensure that nearby watercourses are not contaminated with herbicide. Spraying the leaves is the most efficient method of herbicide application, although several repeated applications may be required over a number of years (since the rhizome root system can remain viable for quite some time).
Spraying should be carried out between May and September, with at least 2 and ideally 3 applications completed during that time.
If time is a major factor (e.g. when a developer wants to build on a site where delays will add significant costs to the project), it may be prudent to combine spraying with mechanical removal. The best method is to spray the affected area several weeks prior to mechanical removal so as to get the herbicide into the root system. The area should then be excavated to a depth of 7 metres, with a buffer zone of at least 4 metres around any knotweed to allow for the spread of the root system.
Removing large volumes of soil to prevent Japanese knotweed regrowth can leave the ground uneven. This can be avoided with our sifting service. Once the soil around your Japanese knotweed infestation has been thoroughly excavated, we can process it using a unique mobile plant to remove all traces of Japanese knotweed. The sifted soil can then be re-used to level the ground. This solution dramatically reduces the amount of Japanese knotweed waste that needs to be transported to specialist landfill sites.
All knotweed rhizomes must be removed from the site and carefully transported to an approved site that will accept Japanese knotweed. Throughout the whole process, only licensed transport companies who are able to provide the correct certificates should travel to the landfill site. All equipment used – even footwear and overalls – should be cleaned and sterilised to prevent the spread of knotweed. Even after clearing the site, it is advisable to continue monitoring the area and be prepared to spray for regrowth.
View our Japanese knotweed treatment price list>
Buying or Selling a House?
It can be difficult to sell a property that's affected by Japanese knotweed. Buyers are often reluctant to take on the responsibility of ensuring that the plant does not spread. If you're struggling to sell your home because there's Japanese knotweed in your garden – or if you're thinking of buying a house that's affected by Japanese knotweed – Taylor Total Weed Control can help. Our knotweed clearance service comes with an insurance-backed guarantee that should help to reassure buyers and lenders alike.